Chef Bobby Buzz is the nom-de-guerre of Chef Bob Passarelli, and if you ever met this dude, you'd know why he's called "Bobby Buzz."
These are the facts. Just the facts, ma'am.
Recruited by the CIA*. The nice one. We kill you with cholesterol. Graduated with special mention: "Please leave now."
Certified as an Executive Chef by the American Culinary Federation.
Graduated Paul Smith's College with a degree in Hotel and Restaurant Management.
Chef at the Governor's Mansion in Raleigh for...well, a lot of years. Bob likes to say he was the Chef for every Governor in North Carolina named Jim.
Executive Chef at Duke University, Glaxo Welcome, and Wake Medical Center.
Chef Bobby Buzz also owns one of the only truffiere or truffle orchards in North America that produces the famed Melanosporum or Perigord truffle native to France.
Chef Consultant for the last 10 years.
Most importantly, he truly loves food.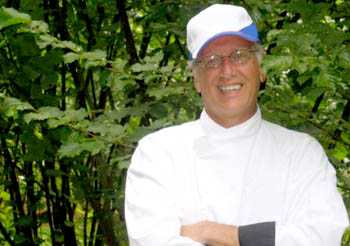 Chef Bobby Buzz in his truffle orchard

Self-portrait with Iron Chef Sakai